Playing the games from Game Scoop!
Game Scoop! is one of my all-time favorite podcasts.

Show host, Daemon Hatfield, along with regulars Justin Davis and Sam Claiborn, plus regular guests, discuss the hottest video game news, play 20 questions, and occasionally read through highlights from old game magazines or make fun of the latest shovelware games posted on the Nintendo Switch eShop (which Daemon has dubbed, "The Nintendo Seal of Quantity. Proving that there is no quality control and virtually anything can end up on the Nintendo eShop.")

– Gamatroid
Game Scoop! Episode 707
The Nintendo Seal of Quantity segment of episode 707 is where Play Scoop is going to focus this week, since the games sounded so bad they might actually be good. Let's take a look.
---
First up is the seminal classic, THAT'S A COW Deluxe Edition.
That's right folks, this isn't just any old edition, this is the DELUXE edition, which the Omega Cops pointed out is actually cheaper than the regular, non-deluxe, version of the game. I guess anything really does go on the eShop.
Now this game was on sale for $1.99 when I went to check it out, so OF COURSE I had to get it and check it out for myself.
Surprisingly this game isn't terrible for $1.99. It actually IS a playable game. Your cow runs automatically and you can shoot your milk stream to increase or decrease your forward momentum, or jetpack into the air. You also have to shoot the milk at enemies to subdue them. I don't think I'll put 100 hours into it, but it was fun while I was making the video shown above. 🙂
Check out the Nintendo eShop description:
Soar through the air and don't get milked in this cute game. With this bundle you get a new headgear – an eggshell.
Jet udders

You are an animal rocket. Launch yourself and don't get shot down.

New goodies every hour

Play with the claw machine every hour, or after flying through enough levels. Get a new look for the cow with different headgear or projectiles.

Fly and shoot

Spin and change the direction of your flight. Shoot enemies with a stream of white drink to make them as gentle as sheep.

Higher, faster, forward

Use the milk or other liquids to fly away, push physical obstacles or stop your enemies. Crash through windows, gain speed and reach the finish line. Shuffle your hooves and don't hold back.


Key Features:

– more than 20 cows to collect
– more than 100 levels
– shooting a stream of milk and more
– cute graphics in pastel colors
– rhythmic soundtrack in hip-hop and funky disco style
---
Next up is the new horror classic, Arcade Machine: Clown Hunt.
Now whether this game is an actual horror game is beside the point. Anything with clowns should automatically be labeled horror, and a game with the scary-ass clown on the cover of this game has GOT TO BE HORRIFYING!!!
Check out the Nintendo eShop description:
New Arcade Machine for 1 or 2 players! Hunt for the clowns is wild! Hop in for a rollercoaster of action!
Clowns are here to ruin your evening at funfair! Don't let them get over your head and show them you can deliver a killing joke too!

Features:
– super scary giant clown boss with his knives out!
– crazy clowns armed with deadly pies!
– multiple playable weapons such as kalashnikovs and shotguns!
– enough guns to pick up for up to 2 players!
– high score to show off your skill!

The night of reckoning is upon us, first gophers and now this… Survive at all costs!
---
Next up is the latest entry in the long running beloved Hippo game series: Hippo: Little Red Riding Hood.
You would totally be forgiven for thinking this was a Peppa Pig game, since Hippo was obviously ripped off from Peppa, right down to using the exact same colors for the character, having the same gender, and having very similar looking animal friends. So just imagine how high quality a rip-off of a Peppa Pig game is going to be.
As Daemon mentioned, this game is $9.99 on the Nintendo eShop. Considering that is more than I'll typically spend on actual new games (I love a good sale), I decided to play the mobile version instead since it's free and the games are the same.

The animation and voice acting actually isn't that terrible, except the writing is a bit odd. You can tell it was probably written in a foreign language and just translated, since some of the phrasing seems off.

In terms of the game itself, it's really more like a few mildly interactive sequences inbetween bits of video. Imagine an episode of Peppa Pig where it stops every so often and you have to play a quick minigame to continue the story. For kids it isn't terrible, but I actually found out on mobile that many of the ads that run during the game are NOT age appropriate for the kids this game is targeted at. Not sure the game creators even know, but I certainly wouldn't want my kid seeing it.

This Switch version is probably much better in perspective, because at least it won't have super inappropriate ads running every 5 minutes.
Check out the Nintendo eShop description:
An interactive modern fairy tale about the fun adventures of a Hippo girl!
Funny storie for children about the fascinating adventures of the Hippo. Visit the magical world of Little Red Riding Hood with Hippo and save her Grandma from an angry Dragon. Fun tasks and colorful puzzles with coloring for kids are waiting for you!

An old well-known fairy tale has been transformed and has become a modern story about a red bandana. The main villain will be an evil Green Dragon, not the old-fashioned Gray Wolf. And who is this modern Red Riding Hood? Of course this is our beloved Hippo!

Let the new adventures begin!

Features:
• Super cute graphics
• Fun mini games
• Puzzles and coloring pages
• Groovy music and fully voiced dialogues
• A game for the youngest players
• Touch screen support
---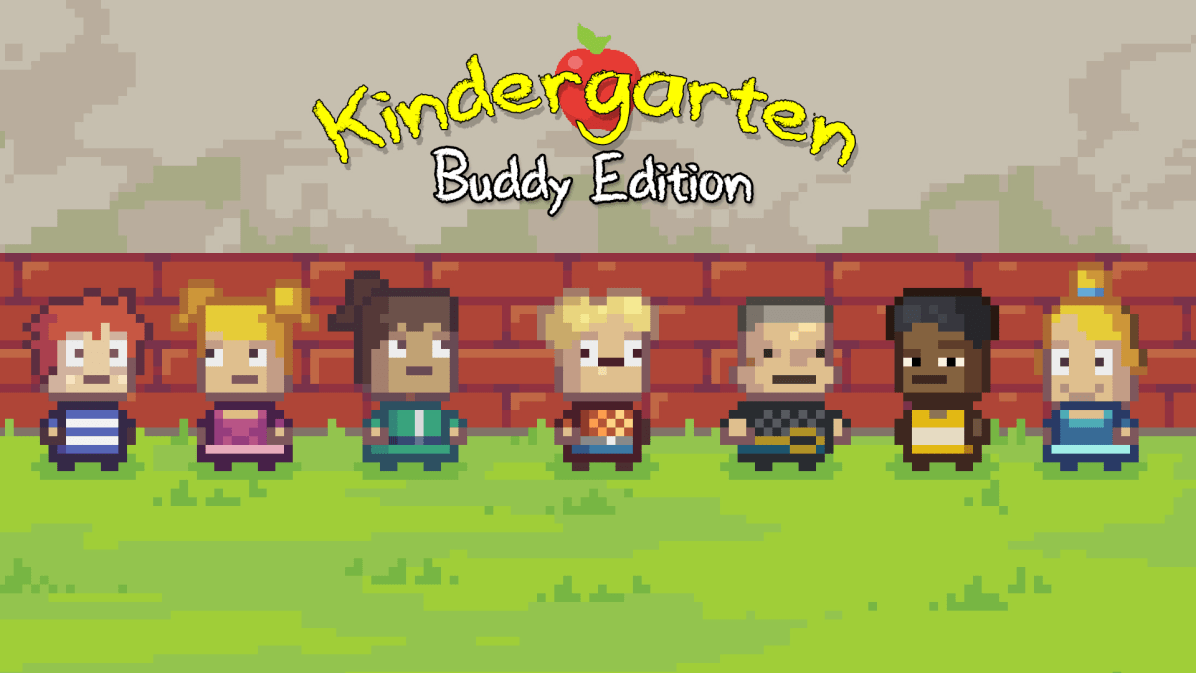 At first glance you might think Kindergarten Buddy Edition is a game for kids, until you see its M rating for "Blood and Gore, Violence, Language, Drug Reference". Buddy Edition on Switch combines Kindergarten 1 and 2, which were previously released on PC, and both games have Overwhelmingly Positive reviews on Steam.
This one actually sounds incredible, and the Omega Cops probably should have looked into it a bit more. I was going to get it and play through it for this week's article, but considering it's $19.99 I'll definitely wait for a sale to pick it up. (how about 90% off?)
You can check out a trailer of Kindergarten 2 below (both Kindergarten 1 & 2 are included in the Buddy Edition).
Check out the Nintendo eShop description:
Uncover a grand conspiracy by living the same day over and over again. With the power of friendship, excessive violence, and nuggets, you will discover the truth.
Kindergarten Buddy Edition brings all the fun (and Janitor attacks) of both Kindergarten and Kindergarten 2 into one unholy package! Learn to share. Help Cindy bully an innocent girl. Get other kids expelled. Take some pills. Dive into the Nugget Cave. Collect and battle Monstermon cards. Talk to the old woman who lives in the dumpster. Hide some contraband. Play dodgeball. Discover how magnets work. Help an heir oust his brother from the family empire. You know…all the fun things you did while you were in Kindergarten! So go on and enjoy an endless stream of terrible Mondays and Tuesdays and see if you can make some friends– I mean buddies along the way.
---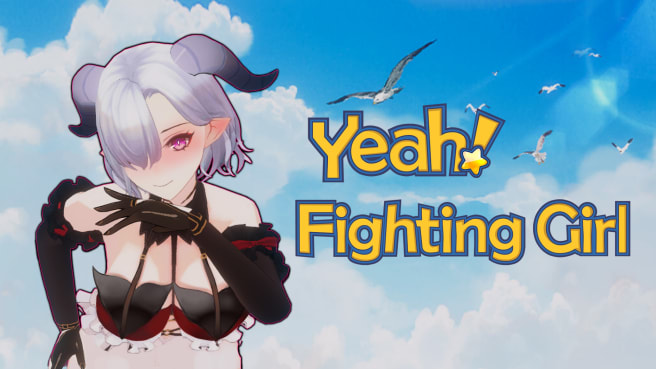 If the generic cover didn't give away the "quality" of Yeah! Fighting Girl, just a look at the few screenshots it has will reinforce your skepticism. Between the overt sexualization of the characters, and the broken English description in the eShop, it's clear that Yeah! is going to be a hard no.
This game was actually on sale, however it was still $13.50 and the reviews on Steam are "Mixed" which is basically PC talk for borderline trash.
You can check out some gameplay (if you can call it that) of Yeah! Fighting Girl from YouTube below:
Check out the Nintendo eShop description:
Five cute girls owe a huge debt for breaking the naked statue of the demon king. To avoid being sold to the Goblins, they were forced to fight in the arena to pay their debts.
Five girls to control, each with unique combat style.
Five girls, different gameplay, different skills, different feel and combat strategies.
Go to the arena to earn money, winner take all but loser take half. Take risk to get rich!
Every time the girls enter the arena, they need to challenge from the first tier. If you actively leave the arena before the start of each tier, you can exchange all the chips for money and take away. The higher the tier, the higher the reward, but if the challenge fails, half of the chips will be deducted and you will be forced to leave the arena. Whether to continue to pursue higher rewards, or to give up in time, is a question.
Roguelike gameplay, random levels and enemies, random blessings for each tier.
Each tier of the arena will face random levels, different levels have different gameplay and enemies, defense, survival, treasure chests, customs clearance, boss challenges and so on. Each tier can choose random blessings that can help you win. Luck is also part of strength.
Finally, challenge the four dominators to set the girls free.
After paying off the debt, you will challenge four bosses, who are the dominators of the arena. Defeat them and the girls will be completely free.
---
In the description it says this is the 13th game in the Japanese Escape Games series?!? Oh man. The cover couldn't look more boring if it tried, and if "Sturdy Door" is the hook to your escape game, then I can only imagine how exciting it must be.
So…for some unknown reason I actually bought this game to play it. (Why?!?) Honestly it is an actual escape game, and it's quite complex. I actually really suck at this game and found it very difficult to determine what to do with the various puzzles in the room (as you can see in the clip above). If you do like these games, then it probably isn't a bad pick-up, but if you're hoping for an experience like The Room, you will likely be very disappointed.
Check out the Nintendo eShop description:
You wake up in a strange room. Solve the tricks and riddles and open the sturdy door. Can you escape from sturdy door?
The 13th Japanese Escape Games series!!

Game system
This game is an escape-the-room game (mystery-adventure game)
*Point the screen with a cursor to solve riddles, and this game goes on

Story
You wake up in a room you don't recognize

The only way in or out is blocked by a sturdy door
---
Santa Claus Goblins Attack is a shmup old-school bullet-hell-ish game, that isn't clear from the confusing title. It's only $1.99 on the Nintendo eShop for a few more days (until 2/9/23), so if you're interested to try it, make sure to grab it before it goes back to $9.99.
This game (or the first level at least) is not as bad as the terrible name and cover art might suggest, however you can find better free-to-play mobile games on the ios store any day of the week. I did pick this up for $1.99 so I could try it, and as you will see from the video above, the game is fairly easy until the boss fight where the difficulty ramps up considerably from the boss' cheap attacks and the high damage they do. I'm not even sure there is a second level because I never got past the first one (although I only gave it a few tries before giving up). For under $2, I'm ok with not knowing if there is more to this game.
Check out the Nintendo eShop description:
Help Santa Claus save Christmas from the terrible Goblins.
Santa Claus was preparing the list of gifts to deliver on Christmas day. During the night the reindeer were grazing and were startled by the presence of something frightening. They immediately fly off taking the sleigh full of presents with them.

The next day Santa's friend "Frozen" brings the news that an army of Goblins is attacking the planet. Without his sleigh, Santa uses his old war plane and heads towards the horde of Goblins.
● Upgrade weapons, shields, missiles and bombs on your jet fighter.
● Upgrade your power-ups to do more damage to the Goblin planes and bosses.
● Epic battles against giant, well-armed bosses.
● Beautiful, colorful and vivid HD graphics.
● Immersive and detailed levels.
● Intuitive controls for both novice shoot 'em up players and hardcore players.
● Levels with increasing difficulty.
● Many hours of fun.
Thanks for Checking Out Play Scoop!
Thanks for hanging out and checking out some of the wonderfully terrible games featured on Game Scoop! I've always wanted to play the different shovelware games featured during the episodes, so when Game Scoop runs this feature in the future I'll make sure to pick up a few of the games and share my experiences with you all.

If you don't already listen to Game Scoop regularly, I highly suggest you check it out. It's one of the best gaming podcasts I've come across and not nearly as "corporate sounding" as some of IGN's other podcasts.

Until next time, happy gaming!

– Gamatroid